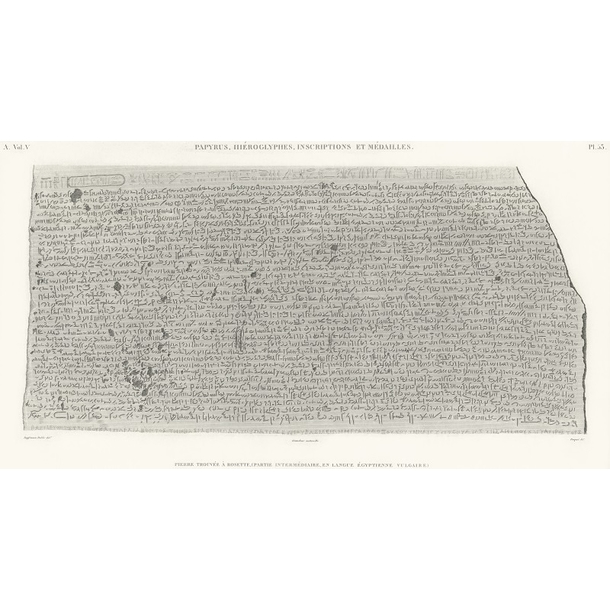 Last copies
Rosette stone - Central part - Demotic Egyptian
The Rosetta Stone is a fragment of a stele discovered in July 1799 during Bonaparte's campaign in Egypt.

The stone consists of three parts, the inscriptions inscribed are the same text written in three different writing systems: hieroglyphics, demotic and Greek.

This print presents the part written in Egyptian demotic.
Characteristics
Delivery :

Order shipped directly from the Art Workshops within 3 weeks

Maintenance :

Eviter toute source d'humidité et de lumière directe. Ne pas plier la feuille

Printing Technique :

Eau-forte, Burin

Copper plate size :

48,6 x 80 cm

Artist :
Dimensions :

75 x 105 cm

Engraving date :

18eme s.

Size of the sheet :

75 x 105 cm

Museum :

Theme :

EAN :

3336727361641

Material :

Papier hahnemühle

Reference :

KM004914
Editor
Editor :

Ateliers d'art de la Rmn-GP

Original work kept at :

Chalcographie du Louvre